Summary
Is a nice day to watch a Miracle fighting ace and suddenly Mayor call to the lab because Mojo left a video about why he doesn't choose to be a Mayor. The Mayor dictate to the girls to guard Hiro for a day mayor. The girls become his guard and later Hiro went to the town to ask somebody opinion on how to keep the town save (he just ask only the girls), and suddenly Mojo dress us a woman to steal Hiro sash, Mayor for a day sign with it. Miss Bellum said to Mojo that the Mayor for a day is over and Mojo feel disappointed and wanted to attack the real Mayor but the girls blocked Mojo so he doesn't surpass the real Mayor. Mojo begone to bait Hiro so he would not get hurt from the girls. Blossom got a idea on how day save Hiro it's remind her the show she watch. The girls finally do the Miracle fighting kick against Mojo and save the day without Hiro doesn't hurt much. And finally back in the lab, when Hiro announce that he getting marry to the woman he commit to talk when he still a mayor, Momoko got a brokenhearted and trying to divorced Hiro. Kaoru and the rest had finally free to watch whatever they want went suddenly the news man announce a weather appear in the scene and Momoko finally found a new crush. And the rest feel do nothing while Momoko enjoying herself watching the man of his dream.
Character Appears
Momoko Akadutsumi/Blossom
Miyako Gotokuji/Bubbles
Kaoru Matsubara/Buttercup
Background Characters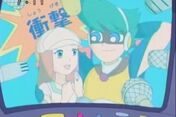 Ad blocker interference detected!
Wikia is a free-to-use site that makes money from advertising. We have a modified experience for viewers using ad blockers

Wikia is not accessible if you've made further modifications. Remove the custom ad blocker rule(s) and the page will load as expected.